Featured products
Product Categories
Gift Vouchers

8 in stock
AXIOM LED
THE GAME CHANGING HIGH BRIGHTNESS WHITE LED

$2.00 per Module, $4.00 a foot
Product Summary & History With The Sign Syndicate
When we talk about bright high powered brightness LEDs the world & LED industry knows the name "Nichia" of Japan for it's quality phosphors.  We are proud to announce this summer of 2014 the induction of Axiom LEDs into our Electric Sign Supply product lineup.  Axiom is no stranger being apart of the original class of 2008 that kicked off The Sign Syndicate's electric sign industry renown high powered white light test comparison "

The Great White Hope

" that has over 36k hours of operation or 12+ years of sign years!!!  
The Axiom LEDs meet and exceed Tri-Phosphor Neon & Fluorescent Lamp light output for sign applications in large Channel letters and Sign Cabinets as observed in The Great White Hope test comparison.
Here is what is so unique about the Axiom AXLE9XB-SW65 LED module, you get two products for the price of one.  The Axiom AXLE9XB-SW65 LED module can run in your typical 12 volt system as a .5 watt module in which case you will be under driving it.  OR, you can run it at it's optimum intended drive at 14.7 volts changing it from a .5 watt module to a 1.6 watt module giving you a brighter light output than a 13mm EGL Tri-phosphor CCFL lamp loaded on a 60ma transformer.  These aren't just marketing statements or claims, we have been running the only

Neon & LED comparison testing

for the electric sign industry since 2008 and the Axiom LED Products have proved to be one of the best, if not the top LED on the market.  We're so confident in our past testing, that's why we are adding it into our current line up of sign supply products......We strongly believe in it.
In August of 2014 we introduced the Axiom AXLE9XB-SW65 LED module into our

Project Tighty Whitey

testing in it's 12volt under driven state.
In September of 2014 we added the Axiom AXLE9XB-SW65 LED module into our

Great White Hope II

testing in it's optimum drive of 14.7 volts.
The Axiom AXLE9-XB LED modules are the best alternative/optional light sources for Tri-Phosphor Neon & Fluorescent Lamps for sign cabinets & large channel letters!      
Great White Hope II -Cabinet Comparison Test Shot
Which one is the Axiom LED?  Yep you guessed it, it's the brightest channel right up on top, exceeding the EGL 13mm / 60ma DL65 Tri-Phosphor Lamp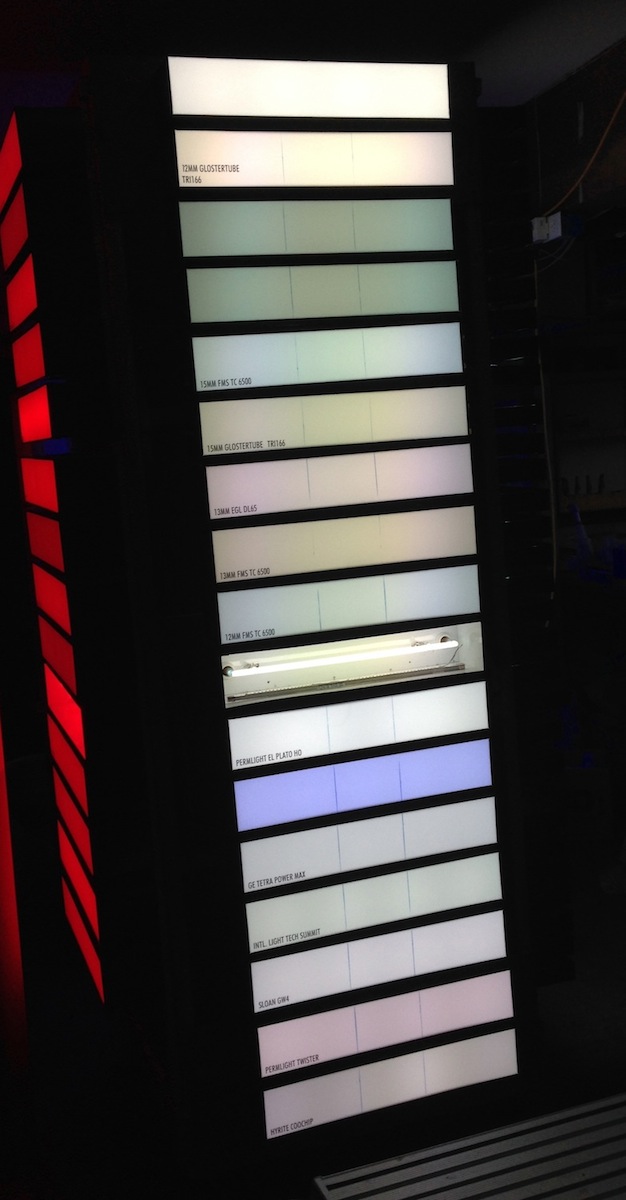 Product Info
The AXLE9XB-SW65 High Brightness White LED module is a high output (250-260 lumen) white LED system for channel letters and light boxes. This LED module uses two (2) Nichia LM80 tested and proven LEDs. The product is used as an alternative light source for Tri-Phosphor Neon and T8 Fluorescent lamps. The AXLE9XB is UL Recognized for wet location use in Signs and is listed in the Sign Components Manual. The weather resistant brass connector technology for attaching to the Class 2 UL approved wire conductors reduces voltage drop in long runs and eliminates wire exposure to the elements and reduces threat of corrosion.

4x Brighter than JT LED (5 Year, 50K Lifetime)

Nichia of Japan, LM80 Tested

Up to 60˙C Ambient Operating Temperature

0.5 Watts Each At 12VDC up to 110 pcs per 55 feet per 60 Watt power supply

1.6 Watts at 14.7v, 34 pcs 17 feet per 60 Watt Power Supply

UL Recognized For Wet location In Signs
AXIOM LED PS6012 Power Supply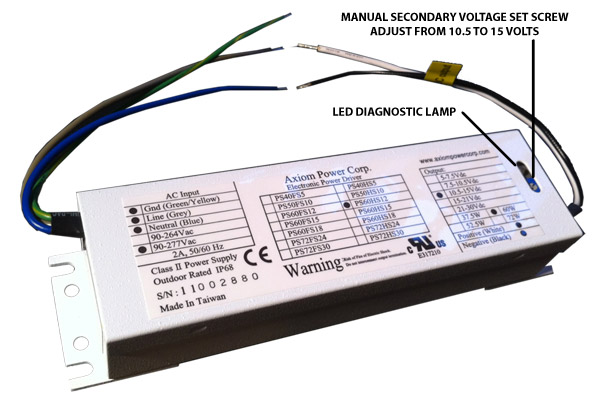 Product Quality and Safety
Axiom LED only uses patented Nichia of Japan LEDs

The AXLE9 Series is manufactured in the USA
Product Warranty
The AXLE9 series comes standard with a 5 year warranty
Technical Specs
Must be used with AxiomLED PS6012 60 Watt 90-277VAC Power Supplies

Measures 1.325" x .75" wide x 1/8" high

Should be mounted to metal surface with supplied VHB tape

UL rated for wet locations, listed in UL SAM Manual
Video
Store