Ushio Filament LED S14 Clear (NEW)
$5.39
22 in stock
***BACK IN STOCK FIRST WEEK OF NOVEMBER 2017****
UTOPIA FILAMENT LED S14 1004161 - Clear

Ushio America introduces the new U-LED™ Filament LED S14 lamps. Ushio brings modern technology to classic design with these LED S14 lament lamps. These lamps provide the timeless look of an incandescent lamp with the energy eefficiency of LED technology. U-LED lament LED lamps have no visible circuit boards or heat sinks, they are dimmable and provide an omni-directional light that replicates the appearance of incandescent lament lamps.

Unlike traditional incandescent, the U-LED S14 lamps operate cool to the touch while saving up to 90% in energy costs. These LED lamps provide 150 lumens and consume only 1.5W of power. U-LED S14 lamps are rated for 25,000 hours and approved for wet location operation. 
 
Ushio America is proud to stand behind these energy-saving lamps with a 3-year limited warranty. The U-LED S14 lamps are available in E26 medium base with soft white color temperature (2700K).
 
-
FEATURES & BENEFITS
• Energy Saving
• Dimmable
• Able to Cycle & Flash
• Dramatic Filament Appearance
• Canada, US UL Listed for Wet Location
• Direct Replacement for 11W S14 Lamps
• 25,000 Hours
• Application Friendly: UV Free & IR Free
• Environmentally Friendly: Mercury Free, Lead Free and RoHS Compliant
• 3-Year Limited Warranty
• USHIO 1004161
 
-
APPLICATIONS
• Signs
• Marquees
• Amusement Lighting
• Accent Lighting
• Indoor and Outdoor
 
 
SPEC SHEET Download: LINK
 
 

 

 

 
 

---
About Ushio Filament LED S14 Clear (NEW)
***BACK IN STOCK FIRST WEEK OF NOVEMBER 2017****
UTOPIA FILAMENT LED S14 1004161 - Clear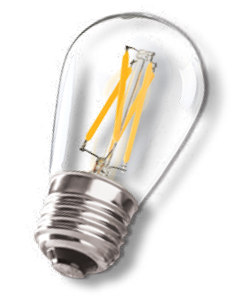 Ushio America introduces the new U-LED™ Filament LED S14 lamps. Ushio brings modern technology to classic design with these LED S14 lament lamps. These lamps provide the timeless look of an incandescent lamp with the energy eefficiency of LED technology. U-LED lament LED lamps have no visible circuit boards or heat sinks, they are dimmable and provide an omni-directional light that replicates the appearance of incandescent lament lamps.

Unlike traditional incandescent, the U-LED S14 lamps operate cool to the touch while saving up to 90% in energy costs. These LED lamps provide 150 lumens and consume only 1.5W of power. U-LED S14 lamps are rated for 25,000 hours and approved for wet location operation. 
Ushio America is proud to stand behind these energy-saving lamps with a 3-year limited warranty. The U-LED S14 lamps are available in E26 medium base with soft white color temperature (2700K).
 
-
FEATURES & BENEFITS
• Energy Saving
• Dimmable
• Able to Cycle & Flash
• Dramatic Filament Appearance
• Canada, US UL Listed for Wet Location
• Direct Replacement for 11W S14 Lamps
• 25,000 Hours
• Application Friendly: UV Free & IR Free
• Environmentally Friendly: Mercury Free, Lead Free and RoHS Compliant
• 3-Year Limited Warranty
• USHIO 1004161
 
-
APPLICATIONS
• Signs
• Marquees
• Amusement Lighting
• Accent Lighting
• Indoor and Outdoor
 
 
SPEC SHEET Download: LINK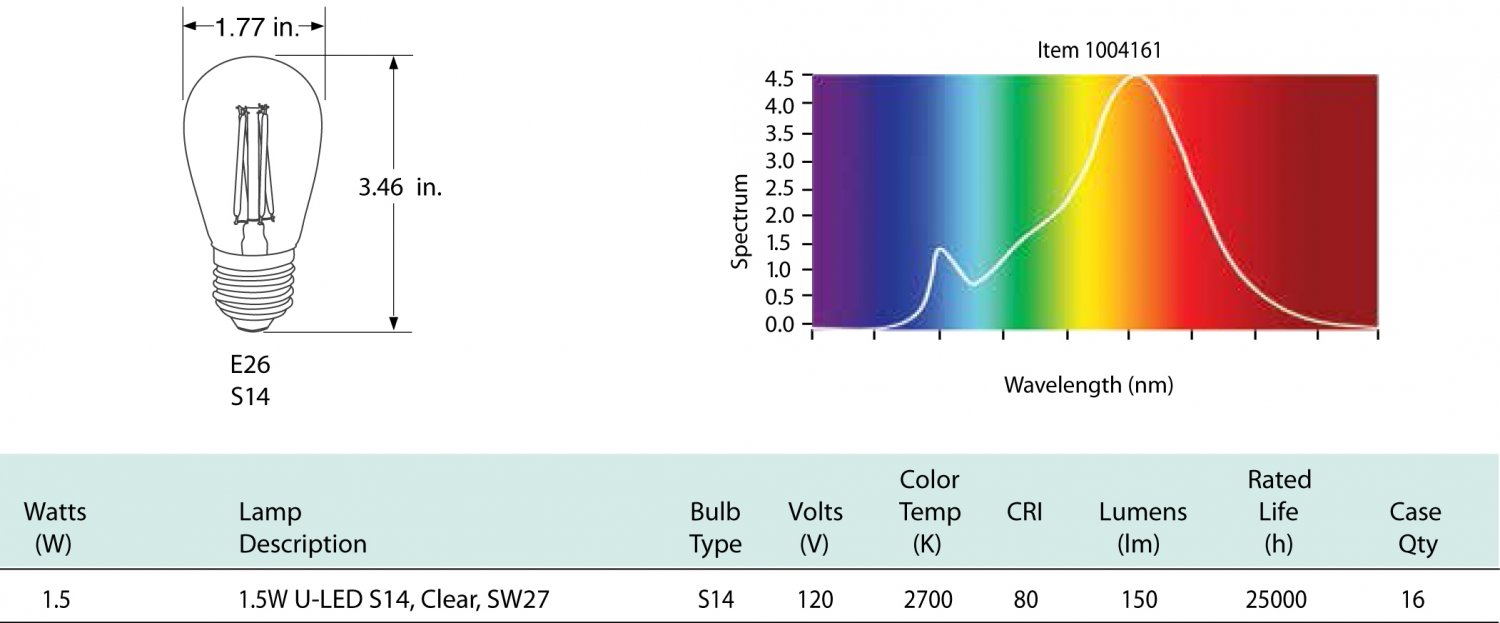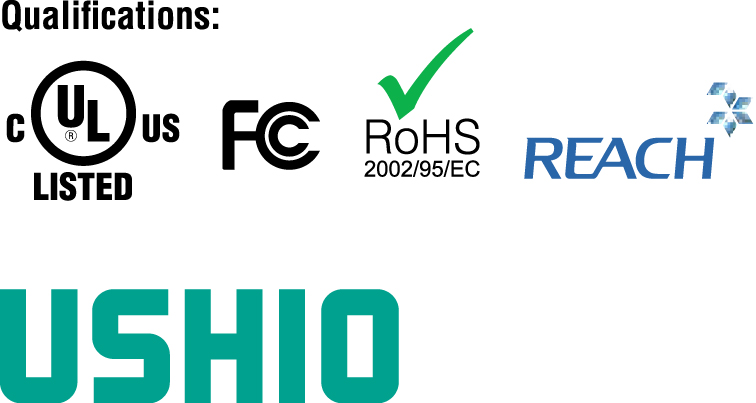 Shipping Options
Shipping options and prices may vary depending on the total value of your order. Your final shipping price will be determined at checkout.
Options shown are based on your estimated location.
$108.58 - FedEx F I R S T _ O V E R N I G H T

$65.80 - FedEx P R I O R I T Y _ O V E R N I G H T

$60.76 - FedEx S T A N D A R D _ O V E R N I G H T

$33.00 - FedEx F E D E X _ 2 _ D A Y _ A M

$28.84 - FedEx F E D E X _ 2 _ D A Y

$22.63 - FedEx F E D E X _ E X P R E S S _ S A V E R

$11.18 - FedEx F E D E X _ G R O U N D
Shipping Size
Size

2 in × 2 in × 4 in

Weight

1.1 lb
There are no reviews to display.