ELECTRIC SIGN SUPPLIES
If You're Looking For Premium Electric Sign Industry Components From Trim Cap, LED's, Neon Supplies, Power Supplies, Pattern Paper.  Then Please Visit Our Online Store or Feel Free To Call Us For Inquiries or Placing an Order!!
Buy Now
SIGN INSTALLER MAP
Looking for a fellow Sign Syndicate Company Member For A Sign Install or Maintenance Call?
Click Here
For Sign Company's Who Work As Subcontractors
Before You Work For A National Sign & Service Company You Need To Look At The Reviews Of These Companies Before You Work For Them. Learn When To Expect Payment From Them and What It's Like To Work For Them, The Good, The Bad, The Ugly. Learn and Share Your Experiences Yourself For Others
Click Here
Ushio Utopia LED S14 Frost
$15.75
UTOPIA LED S14 - Frost 1003935 (DISCONTINUED)
DISCONTINUED ITEM - Once this stock is gone there is no more!
THIS LAMP WILL BE RE-MANUFACTURED TO THE NEW 1.5W FILAMENT LED IN THE NEAR FUTURE, ETA IS UNKNOWN.  STAY TUNE!
Utopia™ LED S14 series of lamps are not only built to operate in the demanding conditions of signs, marquees and amusement rides, but they are also uniquely designed to provide an appearance that replicates traditional incandescent lamps. Utopia lamps do all of this while saving up to 80% in energy costs.

The Utopia LED S14 lamps use special AC LEDs which allow them to operate with fewer electrical components. This reduces the number of potential points of failure, providing you with a more reliable product. This higher level of reliability is especially important in hard to change applications. These dimmable LED lamps consume only 2 watts of power and are able to be cycled and flashed. Their life is rated for up to 50,000 hours, and they're approved for wet location operation.

USHIO is proud to stand behind these energy-saving LED lamps with a 5-year warranty.  The Utopia LED S14 lamps come in E26 medium base with warm white color (2700K). These LED S14 lamps are available in clear, frost, red, green, blue, and yellow.
 
-
FEATURES & BENEFITS
• Energy Saving
• Dimmable
• Able to Cycle & Flash
• Unique Optic for a Dramatic Appearance
• AC LED – Less Components Mean More Reliability
• Wet Location Rated for Indoor or Outdoor Use
• Direct Replacement for 11W S14 Lamps
• Long Life: 50,000 Hours
• Application Friendly: UV Free & IR Free
• Environmentally Friendly: Mercury Free, Lead Free and RoHS Compliant
• 5-Year Limited Warranty
 
-
APPLICATIONS
• Signs
• Marquees
• Amusement Lighting
• Accent Lighting
• Indoor and Outdoor
 
 
SPEC SHEET Download:
http://www.thesignsyndicate.com/miscstuff/Product%20Files/UtopiaLEDS14.pdf
 
 



 

 

---
Share
About Ushio Utopia LED S14 Frost
UTOPIA LED S14 - Frost 1003935 (DISCONTINUED)
DISCONTINUED ITEM - Once this stock is gone there is no more!
THIS LAMP WILL BE RE-MANUFACTURED TO THE NEW 1.5W FILAMENT LED IN THE NEAR FUTURE, ETA IS UNKNOWN.  STAY TUNE!
Utopia™ LED S14 series of lamps are not only built to operate in the demanding conditions of signs, marquees and amusement rides, but they are also uniquely designed to provide an appearance that replicates traditional incandescent lamps. Utopia lamps do all of this while saving up to 80% in energy costs.

The Utopia LED S14 lamps use special AC LEDs which allow them to operate with fewer electrical components. This reduces the number of potential points of failure, providing you with a more reliable product. This higher level of reliability is especially important in hard to change applications. These dimmable LED lamps consume only 2 watts of power and are able to be cycled and flashed. Their life is rated for up to 50,000 hours, and they're approved for wet location operation.

USHIO is proud to stand behind these energy-saving LED lamps with a 5-year warranty.  The Utopia LED S14 lamps come in E26 medium base with warm white color (2700K). These LED S14 lamps are available in clear, frost, red, green, blue, and yellow.
 
-
FEATURES & BENEFITS
• Energy Saving
• Dimmable
• Able to Cycle & Flash
• Unique Optic for a Dramatic Appearance
• AC LED – Less Components Mean More Reliability
• Wet Location Rated for Indoor or Outdoor Use
• Direct Replacement for 11W S14 Lamps
• Long Life: 50,000 Hours
• Application Friendly: UV Free & IR Free
• Environmentally Friendly: Mercury Free, Lead Free and RoHS Compliant
• 5-Year Limited Warranty
 
-
APPLICATIONS
• Signs
• Marquees
• Amusement Lighting
• Accent Lighting
• Indoor and Outdoor
 
 
SPEC SHEET Download:
http://www.thesignsyndicate.com/miscstuff/Product%20Files/UtopiaLEDS14.pdf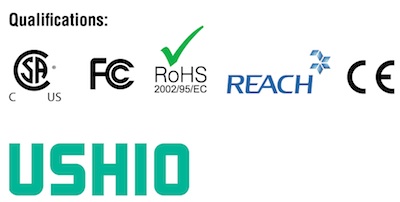 Shipping Options
Shipping options and prices may vary depending on the total value of your order. Your final shipping price will be determined at checkout.
Options shown are based on your estimated location.
$164.41

- FedEx F I R S T _ O V E R N I G H T

(2 days)

$71.51

- FedEx P R I O R I T Y _ O V E R N I G H T

(2 days)

$65.33

- FedEx S T A N D A R D _ O V E R N I G H T

(2 days)

$36.35

- FedEx F E D E X _ 2 _ D A Y _ A M

(3 days)

$31.05

- FedEx F E D E X _ 2 _ D A Y

(3 days)

$27.53

- FedEx F E D E X _ E X P R E S S _ S A V E R

(4 days)

$14.72

- FedEx F E D E X _ G R O U N D

(6 days)
Shipping Size
Size

2 in × 2 in × 4 in

Weight

1.1 lb