Content Count

9,723

Joined

Last visited

Days Won

231
Community Reputation
357
Excellent
About Erik Sine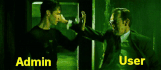 Rank

The Industries Public Enemy #1


Birthday

09/09/1973
Contact Methods
AIM
Website URL
Email Address

erik@thesignsyndicate.com
Profile Information
Name
Company
Job Title
City & State
Gender
Interests

Women & Underwater basket weaving
Quick Company Info
Contact Number
Address
Equipment

Truck, CNC Table, and a Can Opener
****UPDATED With Single Unit Costs

Took some digging. But thought this might help apply for your project Here is two Day/Night Projects with dark or near black faces This is Ideal This is not to Ideal and hard to read in angles. The property manager wouldn't allow the returns be white This is all black reverse and returns are 2" or 1.5". Better for all black if you have to do them that way like we did, but still ideally white returns would have been better. As Jacob mentioned on LEDs...I'm sure you already know but thought I'd mention for readers...point them in the pan for light dismemberment oh and, LoL. If you want any suggestions on kick ass White LEDs for your lighting try ours. 24V, much better than 12V and ours are so bright and efficient! Your customer will love you for it! http://www.thesignsyndicate.com/forums/index.php?/forums/topic/9088-that-bright-halo-illumination/

Depending on your state and city you're in, you might be completely shut down and like myself.....you're bored with very little to do with almost a helpless feeling. Well, you don't need to feel helpless, here is something you can do while in hibernation and keep the gears or productivity going. Pick up a book and learn, your employees can advance themselves. There is a special going on right now. As I've said in other threads these books are more technical and more geared towards educating your sign company. The price of these books is NOTHING compared to hiring constants or "experts" to come in and educate your staff. We are in a Trade, and there is NO Trade School. Books like these aid our Grand Trade. These books will expand horizons. Get them, and have your whole staff read these, installers, fabricators, designers, and sales crew. These were just timely revised and price went up. As a Courtesy to The Sign Syndicate I've asked for our members to get these at a discounted price during these slow times Visit Sign Business Books https://signbusinessbooks.com/ and use the Coupon Code JNUV243 for a limited time $30.00 off

First, I've removed all political comments from this thread. If you want to post political topics and comments do that here http://www.thesignsyndicate.com/forums/index.php?/forums/forum/41-bar-stool-madness/ My intention of this topic is to find out all the "going's on's" of our industry and how all you are doing and hopefully hanging in there and staying healthy. Secondarily , how all this shut down will affect us and our industry. Looks like most of everything is closed down until end of April. My kids are out of school like most and won't return physically until their next school year and class schedule done on Zoom Kgirl's been mostly busy at her other job working in the Hospital ER so she's on the frontlines so to speak. My feeling is we've already been hit with a mild case (she brought home with her) of the COVID, and the small flu we had came and passed, her symptoms were more close to the Corona than mine, loss off smell, taste, etc. Most of what she's run into and positive cases are just flu symptoms, quarantine and let it ride out. Very few death cases and when they are they were, they were elderly and individuals susceptible due to their current health, like most flu sickness can result in. I'm at a standstill with work here locally and any work is only coming from here. Right now.... I'm bored. Just been working out, running, biking, lifting weight, and making beer! Thought I'd share a small batch that I did of a Pale Ale And lot's of late Nights under the stars smoking Cigars Drinking my Beer and all while listening to Talk Radio Well the positive to all this I will most likely accomplish and finish all those things I said I would "Get too" Stay healthy out there!!

If I'm reading you right, for the Black faces on a white background I would go with white returns. Make it two-tone

I have to laugh at UL Right now. I just received that long boring..."our company is doing this to ensure yadda yadda..." on the Virus. With links to click on to ensure you're using "UL approved Medical supplies" Can they not be anymore retarded than they already are during these times, people are having to 3D print their face masks right now

I just got a "unsubscribe" from our newsletters and reason stated "Going out of Business". This comes from a pretty large longtime Sign Company here in California

As most know by know the Weekly Sign Syndicate Newsletters went out yesterday and already I'm getting a lot of "Automatic Reply" from members who's shops have been on "Mandatory Shut Down" and that they will be replying back from home or remote location. My Grand State of Whacko California went on official "Lock Down" yesterday, still unclear on that meaning

I'd like to make a HUGE Announcement that we have brought in a large quantity of REAL U.L. Neon Glass Housings for all your Neon Sign & Lighting Projects, and will have these on hand on a regular basis. As most of you may or may not know, there has been a huge shortage of the availability of Glass Neon Housings for Neon....and what has been available has been a lot of Chinese Fake UL Marked (Embossed on the glass) Neon Housings in the market for some time. They Claim a UL mark, BUT...they aren't listed. The biggest complaint for some time has been the threads are terrible and it made tightening at times near to impossible. The other bad aspect was that the glass walls were too thin, and with just a little bit of heat they were cracking or a incidental drop bump might cause them to crack and break prematurely. Also, it's bad news if you're a Wholesale Shop or Custom Sign Shop integrating these knock-offs into your signs. It's passing along a fake listed product and should something happen like a "fire" I can't imagine Insurance Companies will be too happy about the use of a "knock-off" I've done my best in the past to look for and supply vintage housings that were listed for the Neon Community and help with keeping that art going with Porcelain or older glass housings which we still do have plenty of (#100's & #300's). But now we'll be able to bring in those hard to get components to keep those awesome Neon Open Faced Channel Letters and Wall Signs going without running into shortages of components or options. You can Purchase these from our store or contact us to place an order or inquiry (858) 880-1400 | orders@thesignsyndicate.com

So.... I've discussed this, but haven't really illustrated or given a visual of the BrightON II LED Modules like I have with the BrightON SunFire Here I'm big on visuals, because talking about it is one thing, SEEING it is something else entirely. Well, what are we looking at below? CHANNEL COMPARISON It's our Highly Light Efficient .8w BrightON II LED Module (175 Deg) vs NC's .9w LED(140 Deg) HLC LED Module Series with Samsung chips. You see these Module casings used by many GOQ, to just about any Korean or Chinese Based Module. There are a couple of factors that can make a LED module Light Efficient, optics and of course the chip. Our BrightON series has both, bigger part rests on the chip. I know this because early on development I tried to integrate the Samsung chip to our module casings, and well...with the amount of light we got from power driven....it got it's ass kicked by the one we chose. You can't just throw in any or some decent chip in a cool looking module with cool optics and expect it to go perform well.....that's like throwing in a Yugo motor in a Ferrari body and having great expectations Here is a what's in a 4" x 2' Channel with standard 5" depth NC has 6 LED modules. 6 x .9w = 5.52 watts and achieving 203 Foot candles of light on a #7328 sign surface, and doing it at 35 Foot candles per watt Our High-End BrightON II has only 4 modules. 4 x .8w = 3.36 watts and achieving 214 Foot candles of light on a #7328 sign surface, and doing it at 63.09 Foot candles per watt. We always hear marketing words of "Energy Efficient". What is Energy Efficient? It's comparing two equal sources and when one is doing it for equal or greater with a lesser cost of operation...that is "efficient" We're comparing one compartment with six .9w modules against another with only 4 modules that are only .8w each. You would think the bigger wattage LED should win right? Well....... Don't get me wrong about NC. In the LED Module world, NC LED Kicks the crap out of a lot LED Manufacturers, ALOT. I've shown and illustrated that many times here on the Sign Syndicate. But....Every Dog has his day... Wait, let me walk some of this back. Not all NC LED modules are the same as I've explained in the past, only our special configured Reckless was the one that really kicked ass. LIGHT SPLASH RADIANCE Both Modules are 3" from the wall surface. Check out that angle and splash radiance of both. You can't even identify the horizontal measuring tape with the high powered NC LED Module, look at the small light output range radiating from the NC LED Now the BrightON II...... That's SICK!!! Look at how much light is splashed on the surface each one of the modules is mounted to! In the end,....More light with lesser modules. Efficient Light, Efficient Cost, and it's doing it at a much lesser cost of operation. It bares repeating again, a huge important aspect about the BrightON II...it's VERY under driven, it has half the amperage running across the modules and wiring than a 12V LED Module along with less resistance and heat of a 12V module. That all adds up to longer life. I don't know what to say, we're quite proud of our BrightON LED Line, and it's only going to get better. Want more info on our BrightON II LED Module, read HERE Before I forget, with ever order of LEDs we'll also ship you a couple rolls of...

Guess I should have asked earlier. Besides existing work, anyone seeing a slow down of upcoming or pending jobs? I have to figure there is, but you never know

I've been meaning to respond to this thread but it's been raining for almost 2 weeks straight along with this "Pandemic". Kids are home. No Traffic in SoCal, if you can believe that. Kgirl works in the ER, they have tents outside for patients but so far, they haven't had to use them. Lots of Corona positive tests, it just appears to be a flu and they go home. We're supposed to evaluate in the next few weeks. Like all other areas everything here is shut down, Bars, Restaurants, etc. I'm not that active in Sign Production and Installation any longer, but it's slow AF. Most other shops I know are stressing, some had sign work for large events that are now cancelled. I'm sure a lot of projects for retail, food & Bev are on hold because of the shut down. Business's are defintelty being hurt with this shut down. How are you shops with employees doing with this?

HA, that's the one I use to use and couldn't remember. Thanks everyone for your replies!